Expressions from the Psalms
Posted by Laura Rendall | Published August 13, 2015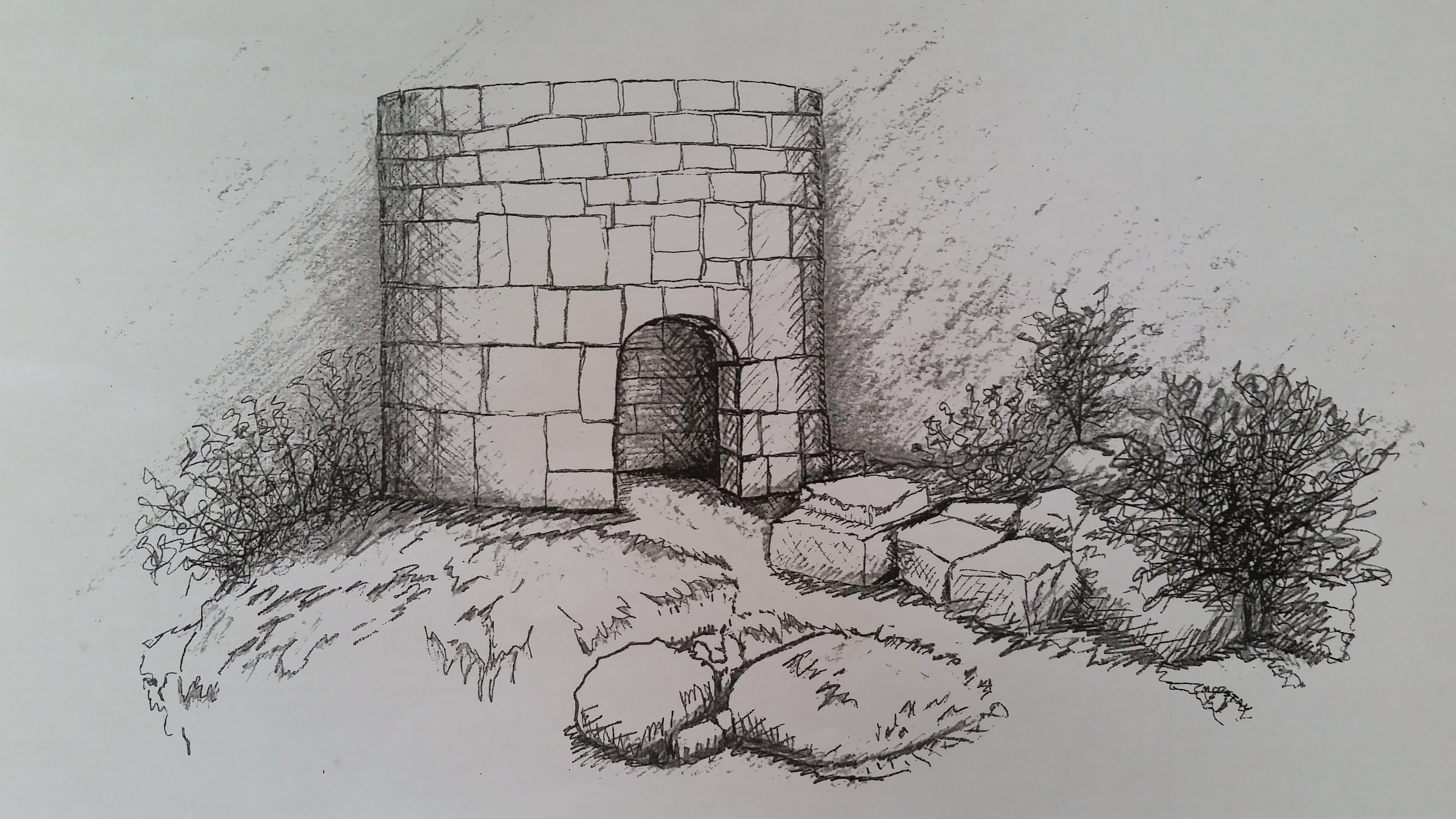 A three-year long study of the book of Psalms has had quite an effect on South Ames Church. Through the study, the church as a whole has sharpened its interpretive skills, developed an environment where everyone participates, and created a body of psalms-inspired artwork.
The psalms study started three years ago with a simple suggestion from Grace Davis that the church study a different psalm every week. Soon they decided to do all the psalms, starting at the beginning. At first it was just a small part of their weekly gathering. A different person each week would volunteer to do the next psalm, take it home and study it, and bring their findings back to share the following Sunday.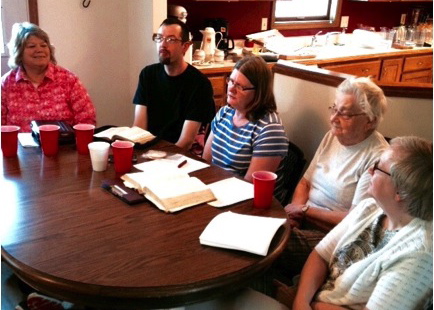 Then last September, Bill and Kathy Burns joined South Ames Church. Bill challenged the church to take their psalms study to a more serious level. Specifically, he encouraged them to look at how the psalms point to the Messiah, to make sure they were sticking to the author's intent for each psalm, and to think about how to apply the psalms to their own lives. Since then, the little psalms study has grown to be the main part of South Ames Church's weekly gathering. Four or five people now volunteer to study the next psalm, then bring their work the next week and hold a discussion about it for the sake of the group.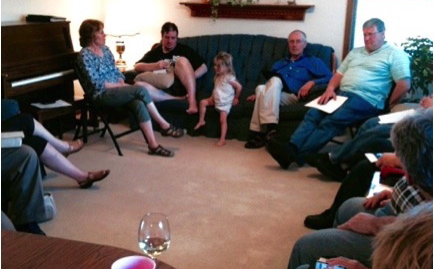 Out of this study has grown a unique body of artistic expression as the people in the church have sought to integrate the psalms more deeply into their lives. After studying Psalm 47, Kathy Burns decided to write her own psalm, using the structure as a framework for praising God from her own heart.
MY HEART SINGS WITH JOY TO HEAR ABOUT YOU AND YOUR MAGNIFICENT REIGN OVER ALL THE NATIONS;
YOU ARE THE CREATOR AND GOD MOST HIGH WHO HAS NO EQUAL!
YOU ARE TO BE FEARED WITH REVERENCE AND AWE AND I JOIN IN SINGING PRAISE WITH YOUR PEOPLE.
I SING PRAISE THAT I CAN ENTER INTO YOUR FAMILY BECAUSE OF YOUR PROMISE TO ABRAHAM.
WHO AM I TO RECEIVE AN INHERITANCE AND FUTURE HOPE FROM YOU?
I SING PRAISE TO YOU, MY KING OF KINGS, MY GOD WHO IS LIKE NO OTHER AND WHOSE POWER IS BEYOND MY COMPREHENSION
MAY PRAISES FLOW FROM MY LIPS AS I SEEK YOU WITH ALL OF MY HEART.
NO OTHERS ARE ABOVE YOU! YOU WILL REIGN OVER ALL THE NATIONS AND THEY WILL THEN KNOW.
When it came time to do Psalm 62, Matt Olson volunteered to take it, as the psalm has been particularly influential in his own life. In addition to his study work, he brought a beautiful calligraphy painting to illustrate how the psalm has resonated with him. He had actually done the painting years ago, but decided to share it now in order to enrich the church's experience with Psalm 62.

After the BILD conference last year, Sarah Johnson also decided to write a psalm, using the psalm structure to orient her heart and praise God for how He had sustained her family during that busy time.
YOU, OH LORD, ARE GOD OF ALL THE EARTH,
YOUR PROMISES HAVE GONE OUT TO ALL PEOPLES.
EVERYONE WHO SEEKS YOU WILL FIND YOU.
LET ALL THE NATIONS SING YOUR PRAISE.
YOU HAVE PROMISED LIFE THROUGH YOUR SON AND CALLED YOUR BRIDE FROM AMONG YOUR ENEMIES,
YOU HAVE CALLED YOUR CHILDREN TO DISPLAY YOUR WISDOM AS YOUR CHURCH.
WHAT A PRIVILEGE TO SERVE YOUR CHURCHES FROM AROUND THE WORLD,
WHAT A JOY TO SING YOUR PRAISES WITH YOUR PEOPLE FROM THE ENDS OF THE EARTH.
I WAS FEARFUL AND WEAK, MY HEART WAS FAINT WITHIN ME AS I CONSIDERED THE TASK BEFORE ME.
MY MIND WAS SPINNING AND MY STOMACH WAS IN KNOTS. I SAID, I CANNOT DO THIS. IT IS TOO MUCH FOR ME.
BUT YOU STRENGTHENED ME AND SUSTAINED ME TO SERVE YOU.
MY HUSBAND REMINDED ME WE ARE BUT A LITTLE PIECE IN THE BIG PICTURE.
WE WILL DO OUR BEST, BUT WHEN WE ARE NOT PERFECT, THERE IS GRACE. WE DO THIS FOR GOD'S GLORY.
YOU SILENCED MY FEARS AND ENABLED ME TO THINK CLEARLY.
YOU COMFORTED MY CHILDREN
YOU ENABLED LILIAN TO SLEEP EACH NIGHT,
YOU PROVIDED MORE WORKERS WHEN THE WORK SEEMED TOO MUCH,
YOU STRENGTHENED DARREN AND HEALED HIS FOOT.
MY HEART REJOICES AND MY LIPS WILL SPEAK YOUR PRAISE BECAUSE YOU, MY REDEEMER, HAVE SUSTAINED ME AND GIVEN ME PEACE.
YOU, OH LORD, ARE GOD OF ALL THE EARTH,
YOUR PROMISES HAVE GONE OUT TO ALL PEOPLES,
EVERYONE WHO SEEKS YOU WILL FIND YOU.
LET ALL THE NATIONS SING YOUR PRAISE.
Later, as a continuation of his experience with Psalm 62, Matt Olsen shared his plans for a beautiful oil painting illustrating the psalm. Below is the rough pre-sketch of the painting that he shared with South Ames Church. In Psalm 62, the Psalmist refers to God as being his rock, his salvation, his fortress, and his refuge. The finished painting will be a depiction of that imagery.

Summarizing his thoughts about their psalms study, Don Johnson says the biggest benefit of the study has been the way in which it has brought the whole church together in contributing teachings. "The psalms study has brought the whole church together in participation," he explains. "It started out with just one person bringing a psalm each week. Now we have many people adding their work in every week, and every person in the church has participated." He says that the artwork coming out of the study was a surprise, and he takes it as proof of how the study has taken deep root in the lives of everyone involved. "This is art expression that we didn't see coming. Everyone has a story and the psalms have significantly made a difference in peoples' lives. Because of the uniqueness of everyone participating, everyone has benefited from this study."
Posted In Teaching