New Church Leads to Joint Ministry
Posted by Laura Rendall | Published October 3, 2016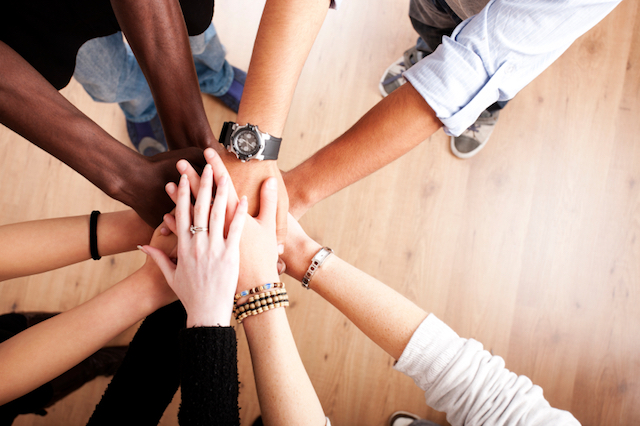 Northwest Ames Church was excited when a new church was planted just down the street, on Idaho Avenue. Right away, the two churches could sense the potential of working together. "When Nate bought the house next to us, I thought, 'This is a cluster just waiting to happen,'" says Steve Kemp.
Steve and Nate have always shared a similar ministry vision. Both care deeply about showing hospitality and serving their neighborhood. They also share an interest in being a resource to young people, especially Ames' Iowa State students. So it made sense for their churches to link arms and become a cluster (within our network, a "cluster" is a group of two or more churches linked closely together by common leadership and ministry). The Ames/Des Moines apostolic team agreed, so the two churches formed the Northwest Ames cluster.
The two churches were excited about the potential of working together. However, they needed to figure out on a practical level what being a cluster meant. Although Steve and Nate shared a close relationship, many others between the two churches didn't even know each other. "There was a disconnect at first between the way Nate and I were thinking and the way our churches were thinking," explained Steve. They knew they needed to put things in place to help the churches bond together. As they carefully considered the issue over their first year together, Steve and Nate implemented five key activities that have shaped the identity of their cluster.
The first thing they did was to implement regular Sunday night cluster meetings. Every few weeks, both churches meet together. At the very first cluster meeting, the point was just for people to get to know each other. "We even did silly things like ice-breakers," says Steve. As a result, relationships began to form between the members of the two churches. Cluster meetings progressively became more natural and more meaningful. The churches were able to move on from building relationships to discussing opportunities for shared ministry and ordered learning.
These joint ordered learning activities were another crucial element of forming cluster identity. "Relationally we've gained a lot of ground, and I think a lot of that has come from the shared ordered learning," says Nate. The cluster currently has groups going through First Principles Series One and First Principles Series Three. The groups are made up of people from both churches and are led and hosted by leaders from both churches.
Another key expression of the cluster's identity is shared ministry efforts. Both churches share a strong vision for showing hospitality, building community, and serving their neighborhood, and are always looking for ways to do that together. They also share a vision for being a resource to college students, and are working together to develop tools to help college students with things like life planning.
An additional piece of their combined strategy to work together has been leadership breakfasts. Every few weeks heads of households from both churches drag themselves out of bed at 6:30 a.m. to share a breakfast together in the Hy-Vee cafeteria (during our interview, Nate groaned as Steve happily described the early hour!). Doing so has resulted in the deepening of relationships within the group, allows for discussion of church matters, and builds one-mindedness between the church's families.
The last piece in developing their cluster mindset has been to deliver a report together at our network's quarterly leaders' meetings. Each quarter, the leaders of each church in our network gather together to report on the health of their churches and share goals, successes, and problems. Steve, Nate, and the other leaders from their cluster began to do their reporting together as one group instead of two. Doing so helped them to solidify the unity of the cluster, and helped demonstrate that oneness to the people in their churches.
As they've grown closer together, the two churches have discovered many benefits to being a cluster. From a leader's point of view, having churches clustered together is more efficient. There are more leaders to see to the work of establishing and shepherding the church members, including through combined ordered learning opportunities. The mixing of people's gifts and talents has also been a benefit of the cluster arrangement, since there are more gifts, and more diversity of gifts, across the two churches than in just one. The churches also benefit just by interacting with each other. For example, Idaho Avenue Church, which is predominantly college students, is enriched when they come around the intergenerational wisdom of families from Northwest Ames Church
Being a cluster has given both churches a lot of strength. They say they aren't perfect at it yet, but they have come a long way on their journey, and have seen the tremendous benefit that comes from working as one. "Now, when one church sees a need," says Nate, "we don't just ask ourselves how our own church can meet that need." Instead, they ask themselves how can their cluster can meet that need. And from that cluster comes twice as much strength, skill, and wisdom as either of their churches would have alone.
Posted In